Hydraulic Doors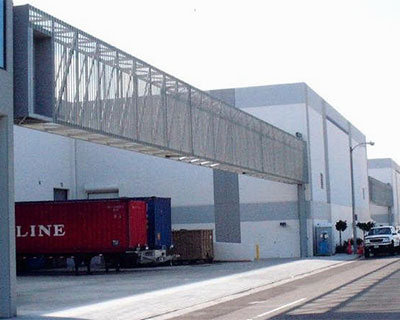 Hydraulic doors are very popular with industrial and commercial property owners because they're very convenient. These doors have hydraulic levers will lift or push the doors to open and close them and are electronic so they can't usually be manually operated. They're a good option for small properties that don't have enough space to accommodate sliding or swing doors.

DP Industries has a good collection of such doors and can perform hangar door installation for you in Carson City, South Lake, Reno, Sparks, Fernley, Placerville, Truckee, Sun Valley, Fallon, and Grass Valley. If you want high-quality services, you should contact them.
Facts About Hydraulic Doors
Many property owners don't fully understand the mechanism behind hydraulic lift doors and hesitate to install them on their property. It can be a little intimidating to see a large look just lift up on two flimsy-looking arms but the door mechanism is specifically designed to handle the load.
Good quality hydraulic systems are made from strong and durable materials. They undergo thorough testing and can withstand considerable amounts of pressure. These systems rarely fail so there's very little chance of your door falling.


They have hydraulic pumps that slowly push up and lower the door when you want to operate it. These mechanisms have cylinders that hold the door in the required position and keep it open for as long as necessary. Good quality cylinders are made from iron or steel rather than aluminum, which can bend under pressure. When you purchase a hydraulic door, you need to make sure the components are made from durable materials.


Most doors are quite heavy and a failure can lead to disastrous injuries. Hydraulic doors have a built-in mechanism that will immediately lock the door to prevent accidents. The door wouldn't be operation until the problem is fixed and it's safe to use once again.


Modern doors don't completely touch the floor when they're closed. There's usually a 2 to 3-inch gap to allow room for the concrete or asphalt floor to expand and contract.


Most industrial hydraulic doors come with limited battery backup that allows you to operate them even when power is disrupted. You should get sufficient battery back-up if your area is prone to frequent power disruptions.


Good quality hydraulic doors are a little more expensive than standard commercial doors but they won't break the bank. Even custom designed doors are relatively affordable if you choose the right retailer and contractor. Some companies charge a premium cost for custom designs so you need to find someone reliable and honest.
A good contractor can help you choose the right hydraulic lift doors and companies like DP Industries have a great team of consultants and ample experience in this industry so you can contact them for assistance.
"MORE ARTICLES"
Hangar Doors
Airplane Doors
Commercial Doors
Industriial Doors
Door Systems