Hangar Doors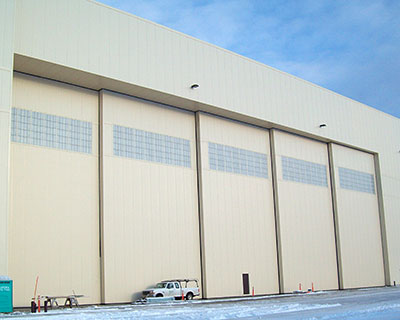 Hanger doors are essential security installations and they control access to your hangar. As hangars usually contain thousands of dollars worth of equipment and machinery, it's important to ensure the door you install is secure and resilient. Good quality doors can be a little pricey but they're worth the investment and can stand the test of time.

DP Industries has a good collection and can perform hangar door installation for you in Carson City, South Lake, Reno, Sparks, Fernley, Placerville, Truckee, Sun Valley, Fallon, and Grass Valley. If you want high-quality services, you should contact them.
How to Choose the Right Hangar Door for Your Property?
It's not easy to choose the best hangar doors for your property because there are so many options available. Many people just choose the most affordable or expensive door without conducting thorough research on the matter. Hangar door manufacturers and retailers often have consultants who can help you decide but here are some tips that can help you understand the process better:
There are different types of doors - Hangar doors come with different designs and mechanisms and these include sliding, vertical lifting, full canopy, partial canopy, free standing side sliding, and free standing partial canopy hangar doors. Different doors are suited for different purposes so you need to figure out which one is a good choice for you and decide accordingly.


The size of the doorway matters - Some hangar doors aren't suitable for large doorways while others wouldn't be practical for small doorways. You need to measure the doorway carefully and forward the numbers to the consultant of a hangar door company. They'll suggest a hangar door that would be suitable for your requirements.


Power backup is essential - Modern hangar doors require power to open and close when if your hangar experiences a power supply disruption, the door will immediately stop working. When you purchase a hangar door, you need to consider your backup options carefully, even if you live in an area with very little power disruption. These doors are very heavy and can't be operated manually without considerable effort or risk of injury so power backup is essential.


Safety is a concern - Modern hangar doors have several protections built in. As mentioned above, these doors are heavy and can cause serious injuries to people in their way. Some of these safety features include photo-eyes, sensing edges, aural and visual warning systems, pinch protectors, self-locking doors, remote control door openers, and cable guards. You need to ensure your door has most of these features to provide a safe work environment to your employees and visitors.
You also need to choose the hangar door manufacturer or retailer carefully before you make your purchase. Some provide low-quality products that wouldn't stand the test of time and pose a great security risk.
A good contractor can help you choose the right hangar doors and companies like DP Industries have a great team of consultants and ample experience in this industry so you can contact them for assistance.
"MORE ARTICLES"
Airplane Doors
Commercial Doors
Industrial Doors
Hydraulic Doors
Door Systems