Commercial Doors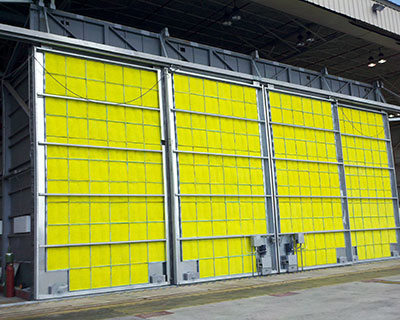 Commercial properties need to have high levels of security and that's why business owners invest heavily in sophisticated monitoring and security systems. Unfortunately, they fail to consider one of the most important yet simple aspects of a good security system; the door. A surprising number of commercial properties have weak, flimsy doors that can be easily broken or dented. Solid commercial doors can help you avoid security breaches and keep your property safe.
DP Industries has a good collection and can perform commercial door installation for you in Carson City, South Lake, Reno, Sparks, Fernley, Placerville, Truckee, Sun Valley, Fallon, and Grass Valley. If you want high-quality services, you should contact them.
How Are Commercial Doors Different?
Many business owners consider commercial doors an added expense that they can avoid. They simply install normal gates that aren't specifically designed or fabricated for commercial purposes, which places their property at risk. Here are some things that same these doors different from others available in the market.
Material - Most commercial doors are made from high-quality and resilient steel or aluminum, depending on the type of door you purchase. These commercial property doors aren't as fragile and vulnerable as normal doors as they can easily withstand a considerable amount of wear and impact.


Size - Commercial doors come in different sizes and their operation mechanisms are designed to handle pressure from the weight of the structure. Normal door hinges and mechanisms just won't be able to handle it.


Weather Protection - External commercial doors are designed to withstand high winds, snow, rain, and the sun and even protect the interiors from these elements. This weather protection is important, especially if you want to maintain a certain temperature inside your property. Commercial doors will form a tight seal and keep unwanted things at bay.


Different Kinds of Doors - Commercial doors come in different shapes, sizes, and forms and you can choose one based on your company's requirements. You can choose roller, steel, thermal protection, hydraulic, high-speed, and other such doors for your property.


Fire Protection - High-grade commercial doors offer superior fire protection. In fact, they obstruct the movement of fire and allow people a little more time to clear the property and call for help. Doors on commercial properties are required by law to offer some fire resistance.
How to Choose the Right Door?
Consider what you might use the door for and what kind of features you need.


Determine how much you wish to spend on commercial property doors before you speak with a retailer or contractor.


Measure the doorways carefully and send the details to the contractor to get an accurate estimate of the installation cost.
Commercial doors are a good investment because they don't need to be replaced often despite harsh conditions and heavy wear and tear. A good contractor can help you choose the right commercial doors and companies like DP Industries have a great team of consultants and ample experience in this industry so you can contact them for assistance.
"MORE ARTICLES"
Hangar Doors
Airplane Doors
Industrial Doors
Hydraulic Doors
Door Systems