Airplane Hangar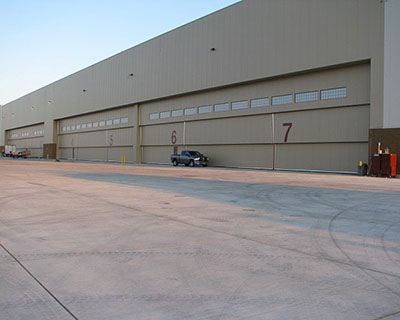 Airplane hangars are large, closed spaces that hold all kinds of aircraft, tanks, and other such big vehicles when they're not in use. These hangars provide a protective enclosure where aircraft can be safe from sun, rain, wind, and snow, which helps reduce the wear and tear. These hangars should also have resilient and durable doors to keep the wind, weather, dust, and unwanted intruders out.

DP Industries has a good collection and can perform airplane hangar door installation for you in Carson City, South Lake, Reno, Sparks, Fernley, Placerville, Truckee, Sun Valley, Fallon, and Grass Valley. If you want high-quality services, you should contact them.
What You Need to Know About Airplane Hangar Doors
Even the most sturdy and well-built hangar would be vulnerable without a solid hangar door. It is one of the most important aspects of a hangar so it's important to know everything you can about the door before you approach a door retailer or purchase it. Here are some facts you need to know about hangar doors:
Material - Hangar doors need to be made from highly resilient materials to withstand heavy winds, dust, and pressure. The best hangar doors are made from high-grade hollow structural steel or bolted structural steel. This material is very weather-resistant and can't be easy bent, dented, or cut. When you shop for aircraft hangar doors, you need to take material composition into consideration. It's a good idea to spend a little extra to get doors made from higher grade materials.


Design - Hangar doors look deceptively simple but to function smoothly, they need to be designed well. The doors need to be perfectly balanced in order to open and close without any strain and delays. Most manufacturers will use CAD and other such structural design software to ensure the door is constructed well and all measurements are accurate.


Drive System - The drive system is also a very important component of hangar doors. These machines bear a considerable amount of load when they open and close the door so you need to choose them carefully. Modern doors have electrical drive systems with an overload clutch to prevent system overloads. This electrical drive can be disabled for manual operation but it's a good idea to install battery backup if your area is prone to power cuts. Manual operation can be difficult and lead to injuries.


Access and Electrical Controls - Modern doors also offer a variety of access and security controls so you can set codes and permissions according to your requirements. The best aircraft hangar door controls use fully-programmable variable frequency drives so you can customize motor speed, delay time, deceleration, acceleration, max torque, and such other features according to your preferences.
It's a good idea to consult with a hangar door company before you make a purchase decision. A good contractor can help you choose the right airplane hangar doors and companies like DP Industries have a great team of consultants and ample experience in this industry so you can contact them for assistance.
"MORE ARTICLES"
Hangar Doors
Commercial Doors
Industrial Doors
Hydraulic Doors
Door Systems